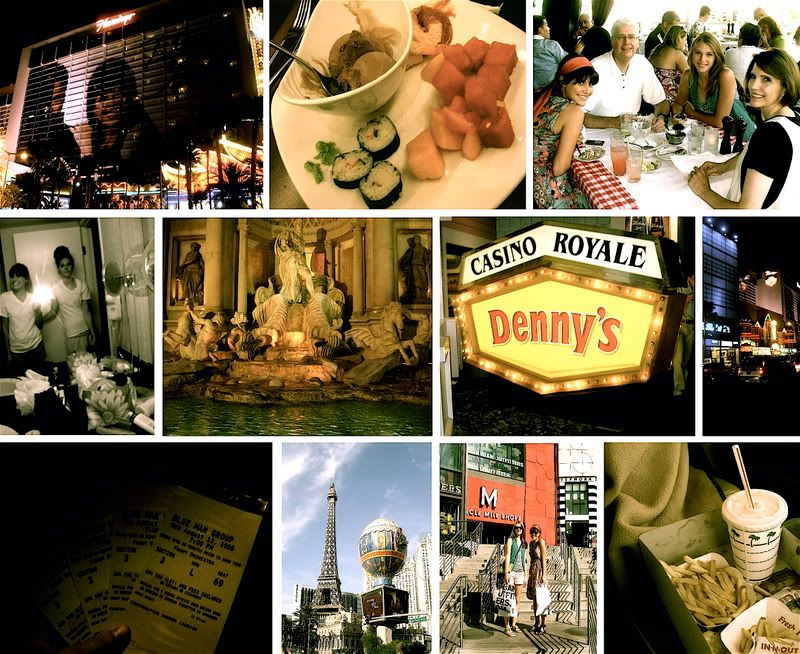 The best things about the family trip we took to Vegas were:
(is that already an oxymoron?)
-seeing a big, creepy picture of Donny and Marie on the side of the Flamingo, and realizing that my bangs may look just like Marie's. yesssss.
-going to the awesomest tackiest buffet ever where I could have gelato, watermelon, sushi, and cocktail shrimp all on the same plate at 11:30 at night surrounded by French tourists in boating shoes with no socks and Asian tourists in rhinestoned Hello Kitty sweatshirts with ugly Coach accessories.
-walking down the strip in 115 degree heat to get to the best place ever...the Forum shops...and WALKING INTO Marc Jacobs, H & M, Salvatore Ferragamo, Theory, American Apparel (for Jenny), and lots of other places I had no money to spend at but did anyways.
-In-n-Out. Obviously.
-finding a very flashy Denny's that only two or three people who read this blog occasionally will appreciate as much as I did.
-realizing that I have a strange and thus far unexplained affinity for Sicilian men in Speedos and gold jewelry with questionable amounts of chest hair who walk around pools acting like they own the place.
-listening to my mom explain to my little sister that every really old guy who walked by us on the strip with a really young girl in anything thigh-high probably wasn't married to her.
-seeing the Blue Man Group and being amused that people pay $100 to be entertained by toilet paper. a lot of toilet paper.
-re-realizing that Jenny is, and always will be, the Biggest Blanket Hog in the Universe, always leaving me with the comforter, which everyone knows they don't wash very often.
-watching the fountains at the Bellagio do their dance to "This Kiss" and simultaneously watching a tiny, tiny, very old woman sucking on a cigar and one of those huge drinks singing along to the splashing and shaking her brittle old hips very vigorously.
-eating homeade ravioli at a restaurant in the fashion show mall that basically made my life. notice that this blog is basically about food. I am all about it.
-not being able to find anything lewd enough to buy Lanee.
-wanting to move into the Venetian because it's so dang pretty. still seriously considering it.
-riding a double-decker bus for the first time in my life. yes, everyone, in Nevada. it was still awesome.